Encourage a friend to strive with a provocative postcard featuring a bold vibrant blue and black geometric pattern and the word "dare." Dare them to think big, to be great, to take a dancing class... it's up to you.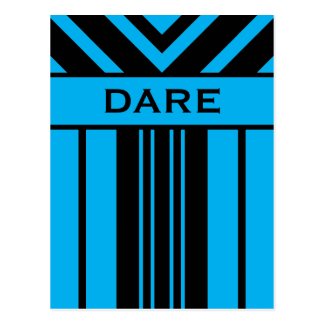 Dare Vibrant Blue and Black Stripes & Chevrons Postcard
by
RocklawnArts
View Dare Postcards online at
zazzle
Black chevrons point down to the customizable text banner in the top third of the design. Thick and thin vertical black stripes fill the bottom of the postcard. You can also change the bright blue background color if you like.
Recently sold, thank you for your order!
Check out the
collection of Black Stripes and Chevrons with Your Name products
.
If you like this item, please share this post using the links below.